The Glenwood-Lynwood Public Library's iCreate Lab is a creative technology studio is available to all Glenwood-Lynwood Library patrons. Equipped with four iMac desktop computers, the iCreate Lab is the perfect place to create high quality projects.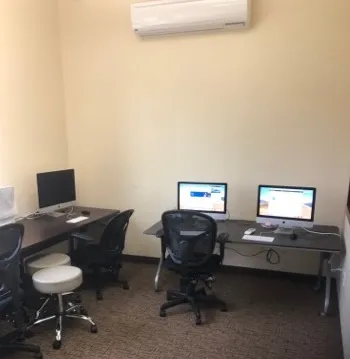 The iMacs all have the Adobe Creative Cloud that provides software for design, photography, video, and the web.
Creative Equipment
Studio Recording microphone
Studio Headphones
MIDI Keyboard
Electronic Drum Kit
Green Screen/Chroma Key Backdrop
Wacom Intuos pro pen & touch tablet
Access
The iCreate Lab is open to Glenwood-Lynwood Public Library District (GLPLD) cardholders (12 years of age and older) in good standing. Good standing is defined as having a valid GLPLD card with less than $5.00 in fines.
Individuals that are non-GLPLD cardholders cost is $2.00 per hour (60 minutes).
Groups wishing to use the room that are non-GLPLD cardholders cost is $10.00 per hour (60 minutes).
Adult patrons (18 and over) must present a valid state ID, driver's license, or passport and a GLPLD library card in good standing at the time of the appointment. The cardholder booking the iCreate Lab appointment is responsible for other users accompanying him/her.
Children ages 12-17 may utilize the iCreate Lab with the signed permission of a parent or guardian.
Children under 12 must be accompanied by a parent or guardian, and must remain in the Lab with the child at all times.
Workstation Reservations
There are four workstations available for use in the iCreate Lab. Each workstation is comprised of an iMac computer, wireless mouse and keyboard and associated software.
Individual workstations within the iCreate Lab can be used during library operating hours and do not require any advance notice; However, reservations may be made and will take precedent.
Each reservation is for a two-hour time period, and can be extended provided there are no reservations for the following time slot.
Reservations can be made up to two weeks in advance, but only one advance reservation may be held at any time.
Any project involving the use of a microphone or non-headphone compatible instrument will require a whole-room reservation. All other projects will reserve one single workstation.
Group Project Reservations
The iCreate Lab is available for group projects. Reservations can be made for the entire room and extended beyond the two-hour limit if there are no reservations for the following time slot. Groups are limited to 6 people.
iCreate Lab Appointments
Contact the library at 708-758-0090 to schedule an iCreate Lab appointment. Appointments will be held for 10 minutes after scheduled start time.
If you require instruction, contact the library and leave a message for the iCreate Lab Specialist. He/she will return your call to schedule an appointment.
Bring your valid GLPLD Library card and your state ID, driver's license, or passport when checking in. These will be held until you are checked out at the end of your session.
Session Help
Staff is available for basic assistance during iCreate Lab operating hours for experienced users.
Novice users who require personalized assistance must make an appointment with our iCreate Lab Specialist. Appointments with the iCreate Lab Specialist will not be accepted for extensive artistic or graphic design consultation or general computing questions.
Comprehensive online training, Quick Start Guides, and books are available upon request.
iCreate Lab Rules
The iCreate Lab will be open during normal Library hours, but closed 30 minutes prior to the Library closing.
The Patron Behavior including the Disruptive & Illegal Behavior Policies for the Library apply.
No food of any kind are permitted.  Those found eating in the Lab will be asked to end their session and leave the Lab for the day.
No laying or sleeping on the floor.
Lights must remain on.
A maximum of 6 people are allowed at any time
The iCreate Lab is to be used solely for digital media projects. Those with general computer needs should use public computers or laptops.
Patrons should keep noise levels to a minimum and use headphones when possible.
All work, file saving, file uploading, etc. must be completed by the end of your reservation.
Users must save their work on their own external memory source or one checked out from the library (external hard drives are available for checkout and CDs and flash drives are sold at the Circulation Desk). If a Library external hard drive is used, the project will be deleted after 1 week of storage.
The Library will retain the external hard drive when not in use. Please note that other users may also have their work stored on the Library hard drive.
Do not use any of the equipment for illegal or unauthorized reproduction of copyrighted material or content you have not been authorized to reproduce or distribute.
Please report any issue with the iCreate Lab equipment to the Reference Desk.
Equipment Lending
Some of the equipment in the iCreate Lab is available for checkout to be used outside of the library for GLPLD card holders only. The checkout period is 3 days with no renewal or holds. Overdue fines are $5 per day per item. The following equipment is available for checkout:
External hard drive
Green Screen w/stand
Sony Video Video Camera
Video Camera Tripod
Updated: August 19, 2021