The Glenwood Public Library District began in 1974 through the efforts of a library committee and the Suburban Library System. In September 1974, the library opened in a shopping center storefront at 301 Glenwood–Lansing Road. In February 1975, successful referendum was incorporating Lynwood into the library district, more than doubling the size of the district. The library's name was changed to reflect the inclusion of both villages in the library district.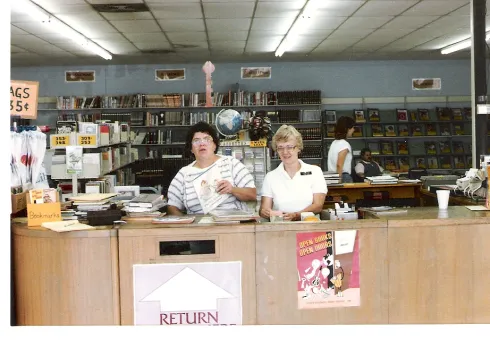 The library moved in 1976 to another storefront in the same shopping center which 5200 square feet. In 1984 the library moved across the street from the shopping center to 320 Glenwood-Lansing Road, into a Porta-Structure. Brookwood School District agreed to lease the land to the library for 25 years at $1 per year.
The new facility cost $506,000, funded by a construction grant from the state of Illinois, monies saved over the years and a mortgage on the remaining amount. The size was 3,800 square feet and could house 33,000 volumes of library materials.
The building served the communities of Glenwood and Lynwood for over 25 years, but as the communities grew the library was not large enough to handle the demand of new library services by the residents (technology, programming, more books).
In April 2005, the residents of Glenwood and Lynwood passed a referendum to build and operate a new library facility. The referendum with passed 59% of the vote and purchased 14 acres of land was purchased in Lynwood on Stony Island Avenue. Stony Island is the approximate geographic center of the two communities and directly off the I-394 expressway. The amount of land will allow the library to grow and provide for outdoor programming options.
On September 22, 2008, the new Glenwood-Lynwood Public Library District opened to the public. It is 19,005 square feet and cost 6 million dollars. It can hold 70,000 volumes of library materials; has a meeting room that can be divided into 2 different meeting spaces; hosts 3 quiet study rooms; a computer lab with 20 computers; separate children and teen spaces; ample table seating; café area for snacks and conversation and enough room for staff and library storage. It is located in a picturesque setting with a small pond and natural prairie grass.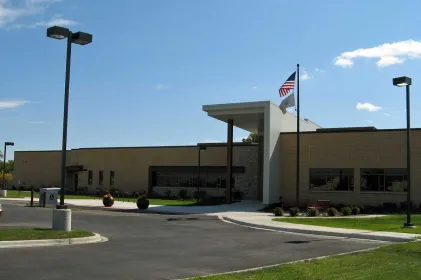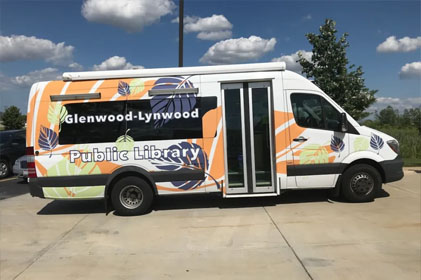 With the numerous affects of COVID-19 including poor property tax collections, large Equalized Assessed Valuation (EAV) , minimum wage mandate, expensive but necessary window replacement project, the dwindling numbers of users of the bookmobile, and circulation of materials were all factors in retiring of the bookmobile.
On August 18, 2020, the Library Board of Trustees approved the offer submitted for the bookmobile by the Gail Borden Public Library District. The bookmobile left its parking bay for the last time on August 25, 2020. The bookmobile may be gone but it'll never be forgotten.